Must Haves In An Outdoor Party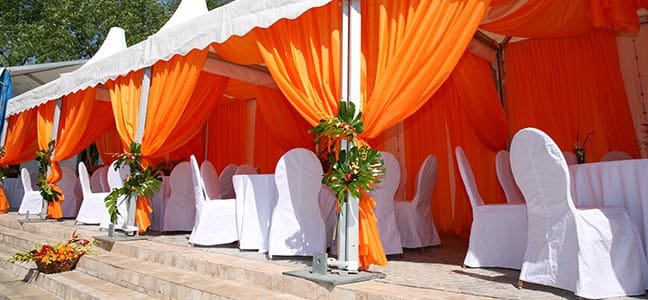 You will need tent rentals for an outdoor party in the summers, without which you might risk exposing your guests to excessive sunlight or rain, depending on the weather in your area. We are aware of how table rentals and tent rentals play a significant role in the structural organization of an outdoor party, but there is a lot more to them which you may sometimes disregard in the shadow of the outer decoration.
This article will identify the most significant items you need for a classic outdoor summer party.
Water, Punch, and Ice
Outdoor parties are usually held in warmer weather, and you cannot truly enjoy their essence without having cold and accessible juices by your side. Depending on the number of guests coming over, keep coolers of ice prepared and punch containers which people can use to pour and drink at will.
Fuel and Supplies for the Grill
Outdoor parties carried out in the day usually involve barbeque and grilling for which coal, fuel, and the meat along with the sauces is an absolute must. If you have arranged a party, it is wise to go for getting these supplies before the actual day so that any marinating and storing process can begin before the party does.
Outdoor Games
All those table rentals are not for show are they? You can arrange quick board and card games for your guests, and also use the tables for playing interactive games like truth and dare. Having space devoted to games in your backyard/street will ensure that you do not have to move around too much.
Seating Arrangement
Whether you plan on getting your furniture moved out with the table rentals for the sake of the party or simply go for sheets which can be laid down on the floor, you need to ensure that there is sufficient space available for everyone to sit comfortably. Get the arrangement ready in accordance with the confirmed list of invited people so that no mishap can take place on the day of the party.
Sound System
Any party is incomplete without the perfect dance and party music playing in the background. Once the music plays, people will find a place to dance their hearts out, and the enjoyment that dance brings is quite unparalleled. Arrange for speakers which can be connected to drives and cellphones and can play music loud enough to keep the party going, but controlled enough to not get the entire neighborhood hustling.
Prepare the Guest's Bathroom
When you have friends or relatives coming over to an outdoor party, you need to make arrangements in the nearest bathroom for obvious reasons. Make sure that water, toiletries, and other such essentials are plentiful.
It should go without saying that you need dishes and tumblers for the food to get the party going under your tent rentals. Whatever decoration or added luxury you wish to add in your party is up to your disposal, but it should be noted that without these essential mentioned items/aspects a party cannot go smoothly.