How to Effectively Terrace a Slope with Retaining Walls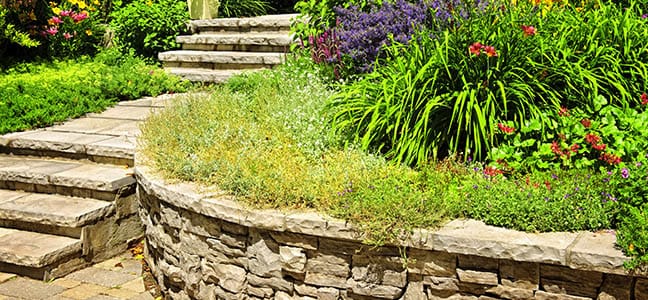 Landscaping on a steep slope is a challenging aspect for any residential landscape project. Only an expert landscape contractor can create a landscape design on the steep slope. The best solution to tame a steep yard is to construct a series of retaining walls. Retaining walls landscaping can change the entire look and feel of your yard.
Retaining Walls
Retaining walls can make your yard more usable and you can take pleasure of amazing landscaping elements in your sloppy yard as well. These walls can build you a beautiful raised garden and will provide your yard a more appealing appearance.
Retaining walls are set one after another for stability and engineering. Each wall creates planting beds to complement the toughness of the stone walls. Terraced retaining walls offer built-in border that minimizes tree maintenance and trimming efforts.
In-wall planters can be used to decorate retaining walls. With a delightful mix of green plants, small flowering trees, shrubs and hostas, retaining walls create welcoming appearance that displays colors and curb appeal.
Landscape Retaining Wall Basics
The main purpose of constructing retaining walls is to hold back soil when elevation has drastic changes. Often retaining walls are utilized for terracing yard which originally had a steep slope. In order to landscape your yard with retaining walls, these walls should be constructed properly. Take below mentioned facts into your consideration while landscaping with retaining walls:
Base
Retaining walls must be built on a stable base. The base of the walls should be fixed below ground level. The taller a wall is the deeper a base should be. It is because base supports the entire wall.
Backfill
Retaining walls should have suitably compacted backfill- dirt behind the wall. This backfill helps in providing proper drainage.
Drainage
Drainage is another important aspect that you should consider while constructing retaining walls.
Height
Retaining walls should have a height between 3 to 4 feet. The load retaining wall can bear depends on its height.
An inappropriately constructed retaining wall may crack, bulge or lean, creating an ugly eyesore for you. Thus, you should always consider hiring a reputable and trustworthy landscape company for retaining wall construction. LaGrass