What Is The Cost Of Popular Kitchen Countertop Materials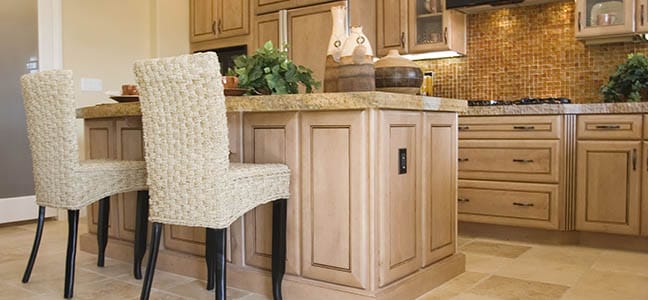 Kitchen countertops are the most viewed items in a kitchen, so you need to make sure that they look over-the-top and stylish. But, how do you know which kitchen countertop is good and what is the price of granite and quartz kitchen countertops? Well, this article will show you just that. Keep on reading to find out:
Wood Countertops
The good old wood! Wooden countertops are a no-brainer and they look elegant, wherever they are. In the kitchen or in the bathroom, they are sure to make heads turn. When thinking about installing wooden countertops, you need to keep certain things in mind. As much as people love wood, the durability of wood as a kitchen countertop is questionable. It collects a lot of bacteria, since wood is porous and can house anything that lies on top of it. Furthermore, wood is very hard to clean and maintain. So, the overall cost of a foot square of wood or butcher's block without any treatment lies anywhere between $10 to $38. Treatments to make it water resistant adds up the cost as well.
Granite Countertops
Granite is also an amazing material for countertops. It is a very durable material and it is heavy duty, which means you only have to set it, then you can forget it. Granite countertop lasts for a lifetime and it hardly chips or cracks. The only downside to granite countertops is their installation. Granite blocks are very heavy, and they need to be handled with care during installation, otherwise, someone could get seriously injured. Once in place, granite will last you for years. A square block of granite costs a lot, around $140 for a foot square.
Quartz Countertops
Quartz countertops look classy and glamorous. They add a touch of royalty and magnificence to the kitchen or bathroom. In kitchens, quartz is widely used because of its durability and strength, and in the bathroom, it is quite popular because of its natural water resisting properties. Quartz is also famous among people for its marble-like luster and its ease of cleaning. Because of its smooth surface, it is cleaned quite easily, and dust doesn't collect on top of it, because it is quite flat and non-porous. Quartz is available for a price range of $15 to $70 and higher per square foot.
Marble Countertops
Marble countertops are also very classic, and it is a common material used for countertops. Marble is similar to quartz in the fact that it can be cleaned very easily, because it is flat and smooth to the touch. Marble is also available in a lot of colors and designs. You cannot go wrong with a classic marble countertop. On the contrary, marble is on the expensive side of countertop materials and it is also liable to chipping from the sides. One square foot of marble can cost you from $15 to $190.
Concrete Countertops
If you are looking for a durable and affordable countertop material, then concrete is the way to go. Concrete is an amazing and rough-and-tough material, if you want less maintenance over the years, and more durability. Concrete only has one downside and that is its interaction with water. Concrete is somewhat permanent, and it is very hard to change the material once you go about the route of concrete countertops. One square foot block of concrete will cost you anywhere, from $50 to $100. It is a less expensive investment, but worth the money.
Stainless Steel Countertops
Stainless steel countertops are not very old. They have been around only for a couple of years. Stainless steel looks amazing and it adds a touch of style and minimalism to your kitchen. Stainless steel mostly looks good in the kitchen, but if you want, you can also install it in your bathroom. Stainless steel is also towards the expensive side of materials. One square foot block of stainless steel will cost you around $100. But the look and durability of stainless steel will make the splurge worth it.
We recommend to contact a granite countertop installer Rockville MD for getting an exact quote. They will also show you the price with respect to colors and designs.