Add a Touch of Flair to Your Party with a Clear Span Tent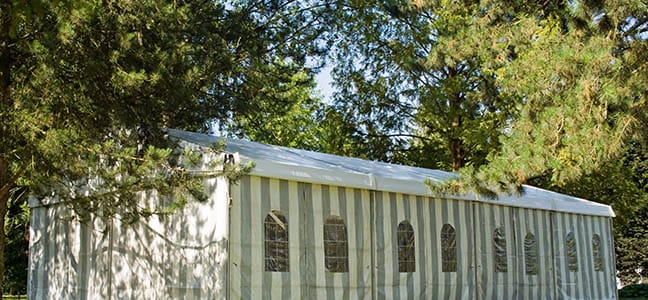 Party planning is always exciting, yet it can be a little stressful when you want your event to be amazing. Whether you are planning a corporate bash or celebrating your wife's birthday, one of the biggest party planning issues is setting up the venue. Fortunately, clear span tents offer a way to open up your options for adding a touch of flair to your party that makes it an event to be remembered.
Choose from Multiple Size Options
One of the biggest challenges that people encounter while party planning is finding a venue that is large enough to comfortably handle the crowd. With a clear span tent, you do not have to worry about going over a venue's maximum crowd limit because you can get one that is as big as 162 feet wide. You can also choose from tents as small as 10 feet wide. This kind of flexibility allows you to host your party in one large area, or you can place several tents on a lawn to create separate areas. This is great for corporate events where you may have several presentations going on at one time, or you need to create separate areas for different departments to hold their celebrations.
Celebrate Rain or Shine
Outdoor parties always get your guests in a festive mood, yet they are incredibly unpredictable. Since the last thing you want is to have your party interrupted by rain, make sure that you plan accordingly. Clear span tents are not only weather resistant, but they also come with HVAC options. Keeping your guests warm or cool as the weather demands shows tremendous foresight as the party host. It is also important to note that you can slide the wall curtains open to let fresh air and sunshine in on a beautiful day, or you can pull them closed if bad weather does hit during your party time. Either way, you can carry on with your plans while knowing that nothing will rain on your parade.
Take Decorating to a New Level
Sure, streamers and balloons are always festive. However, just consider what your guests will think when they have a real hardwood floor to dance on during your outdoor bash. Or think about what a light or sound system will do to liven up the festivities. Clear span tents come with more options for personalizing your party than any other venue since you can deck it out to suit your party's theme and activities. Whether you need a stage for an award presentation or disco lights for your sister's birthday party, the sky is the limit for finishing your décor in style.
Get Help with Event Management
Clear span tents can be set up the day of your event, and they can stay in place for as long as you need. With a clear span tent, you also have the option of having your party professionally managed so that you don't have to worry about those little details. Having a pro make sure that your lighting is just right or that your speakers are properly balanced allows you to enjoy the event without stress.
When you have a party to plan, it is important to make a good impression on your guests. One of the most effective ways to plan a perfect party is to be prepared for the unexpected and always add a few elements that your guests don't expect. With a clear span tent, both of these bases are covered so that you can welcome your guests with full confidence that your extra little touches will be noticed.