Linen Rentals for Your Wedding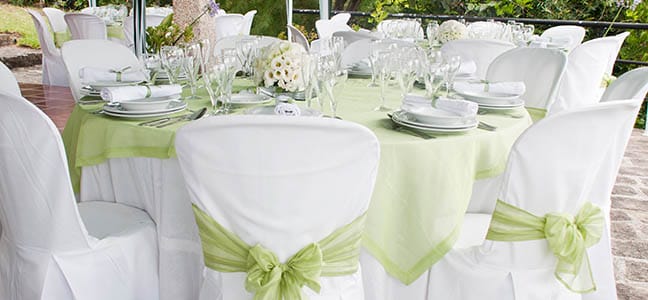 Table party linen rentals are a primary part of the wedding. These include everything from tablecloths to napkins used for every guest. Tablecloths at the weddings are used from everything from guest tables to DJ booth and gift tables. Sometimes, rentals are difficult to find. There are also times that it is much better to match up different companies providing table linens to compare the prices and get the most out of the finest linens. There are numerous ways to look for linens, possibly with the use of people you're connected to through the wedding.
Contact the Catering Service Provider
Assuming that you are using a catering service to serve and make the food for your wedding, it'd be a good idea to contact catering services itself. The catering service might know of reputable wedding linen rentals provider in the place that provides table linens as a service. A catering service must be able to provide you several referrals to other reliable service providers in the area. Make sure to investigate the services of the company to understand the quality of their service and linens.
Ask the Staff from the Church
If you are having a wedding traditionally and you want your reception at church grounds, it may provide linens for you to use and borrow if you need them on a short notice. If not, they might also be able to direct you to somebody who rents linens for a table linen rentals service. If you're lucky enough to attend the church that has its own linens and would let you use them, you can use them at no cost. This might help you save lots of money that could be sent to various parts of the wedding budget.
Check Out Other Markets
If you are searching for antique table linen rentals for the wedding, antique stores, and flea markets are a good pace to look for the sets of table linens. Typically, such table linens are smaller in size and this will need a bigger tablecloth underneath this, yet you have to keep the tablecloths after the wedding. However, if there's one thing that you need to consider, it's the fact that table coverings are unique and can easily rip or damaged in some ways. If you are planning to keep them later, you might not want to put these at the tables where foods will be served.
Sometimes, table linen rentals are a bit confusing and it is best to work with the church to use linens for smaller costs. On contrary, some people like renting or buying their linens. The important thing to keep in mind before getting started with the process is knowing exactly the number of linens you need and the size you want to ensure that you are making the right decision as well as looking in the correct places for linens.
Regardless of the table linens or party tent rentals Bronx you need, it is always a good idea to use the best rental company that's known for expertise and experience. Although money isn't a problem, it is always better to compare the service and quality of every individual service to understand how to get the best. Wedding events are a special time in one's life. Ensuring that everything is set for the event will make your day more special.