What Are Some Tips For Choosing Kitchen Cabinets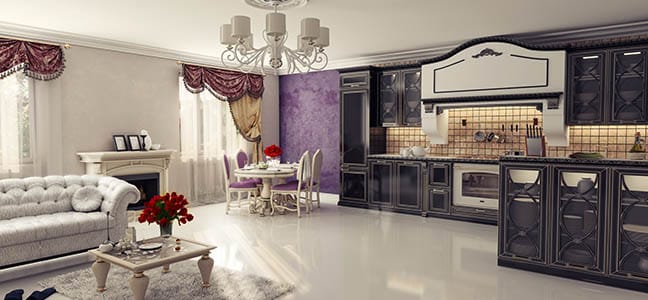 Installing or replacing cabinets is common in kitchen remodeling. If you want to replace your cabinets and would like to know how to choose kitchen cabinets, keep reading.
Planning And Budgeting
Before starting anything related to the replacement of cabinets, you should determine the style of the kitchen and the cabinets. Plan the layout and the cabinets and drawer location. Consider your specific needs and make changes accordingly to the style and functionality of cabinets.
You must create a budget for cabinets considering important details like the style, material, and other things we will mention in this blog.
It's worth mentioning that cabinet installation usually takes up 40-50% of the kitchen remodeling budget. A separate budget for cabinets will allow you to select the cabinets well without overspending as there are many options.
Custom Or Prefabricated Cabinets
When choosing cabinets for your kitchen, you have to select between custom and prefabricated cabinets. Prefabricated cabinets are cheaper and have stock designs. They are better for people who are designing a kitchen for a rental.
If you can spend more money, you should select custom cabinets as they are made keeping the design and dimensions of your kitchen in mind. You can select the best functionality and style while maximizing storage with custom cabinets.
Custom cabinets are considered the best type to go with but they are expensive. On the bright side, custom cabinets in a kitchen can increase the value of your house if you're looking to sell your house.
If you want something in the middle of stock and custom cabinets, choose semi-custom cabinets. The door styles and colors are stock, but you can customize them to fit your kitchen perfectly.
Kitchen Drawers
Most kitchens today have drawers on top of cabinets and serve many purposes like increasing storage and keeping items organized. But keeping mind that they are more expensive than cabinets.
Additionally, drawers are considered more fragile than cabinets because the sliding mechanism in them can break easily. So, not only the installation, but maintenance of drawers is expensive as well.
So, if you're fine with cabinets but want drawers for aesthetics on a budget, avoid drawers and stick to cabinets only for your kitchen upgrade.
Cabinet Materials
The material you use for your kitchen will determine its lifespan and the designs possible with the material. The most popular material used in kitchen cabinets is still solid wood. Solid wood has many kinds like maple, cherry, hickory, oak, etc. They have their qualities and are preferred for stained cabinets.
You're not limited to solid wood because engineered wood cabinets offer durability and design options as well. Popular engineered wood materials are hardboard, veneer particle board, plywood, and MDF (medium density fiberboard). They are preferred by homeowners who want to avoid some disadvantages of solid wood.
Furthermore, if you want a material that is not wood, you can select stainless steel, metal, or melamine, cabinets.
Traditional, Modern, Or Transitional Style
Doors are the most visible parts of cabinets. Therefore, consider the styles and options you have when selecting the door profile of your cabinets.
There are countless styles and designs of cabinets. You can begin by selecting between traditional, modern, or traditional styles. Keep the design of your kitchen in mind when choosing the style of cabinets. A rustic kitchen with modern cabinets may appear awkward.
It should be noted that modern and contemporary cabinet designs are preferred by home buyers and offer better value. If you're going to sell your house in a few years, choosing modern cabinets is better.
However, trends change over time and the cabinet style that was modern 10 years ago might appear dated today. On the other hand, traditional cabinet designs are not affected by trends and stay popular. So, to avoid your cabinets from looking dated in a decade, select traditional designs or transitional designs if they match your kitchen.
Transitional cabinet designs use designs of both traditional and modern styles to form a unique and beautiful style.
Conclusion
Selecting cabinets for your kitchen carefully will allow you to incorporate the best design into your kitchen while maximizing functionality and storage. Discuss your preferences with kitchen remodeling companies Rockville to begin planning and budgeting.