What is the easiest way to fix my damaged AC unit?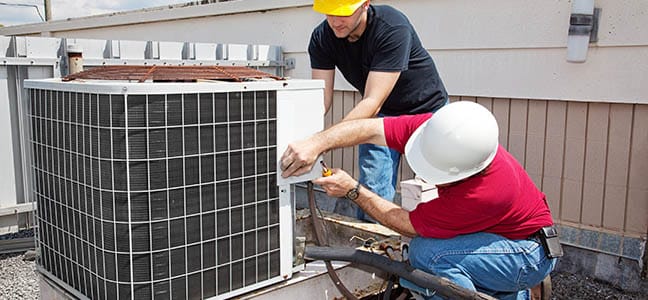 With summer hitting around, AC units act as the best life savers whether at home or at work. But at times even life savers can be troublesome. Like any other electronic device, damaged AC units need to be taken care of before it gets completely conked off.
An AC unit can be off duty for various reasons such as there can be AC leakage problems; the compressor might be damaged due to severe pressure or due to delay in servicing there might be congestion in the air circulation. As simple as they look the more intricate the details are of the units.
Read along to find out how to fix you unit if there is a leakage in the AC unit.
First vacuum out the drain pan which is placed near the evaporator coil. After clearing the first round of dirt and debris, now focus around the outlet port where the water drains out as this area attracts the most amount of dirt.
Now examine the drain pan as it might have holes where the water could be leaking through. If so, then the drain pan needs to be replaced by a technician.
After a thorough examination cut off the drain hose and clean it. Use compressed air, carbon dioxide or nitrogen to sanitize it. Once it is clear, fix the unit back and check once again if the water is getting drained from the drain hose.
How to fix your AC unit if it starts making noise?
This is one of the most common problems found in Ac's. One of the reasons is over usage. If so, then turn off your AC for some time.
But if the problem is serious then find the air handler or furnace and remove the panel; it is generally kept in the garage or attic of the house. Just by looking and touching it you can know if there is any problem.
For example, if the motor is hot then it simply means the furnace needs to be replaced and if you see red lights blinking on the temperature controller then take a look back on the diagnosis chart for detailed reference but it certainly means there is some issue.
Go ahead and fix those easily fixable damages of your AC unit. A professional HVAC company or electrician can also do wonders for your damaged A/C unit.