What's the difference between Men's and Women's Aviator Sunglasses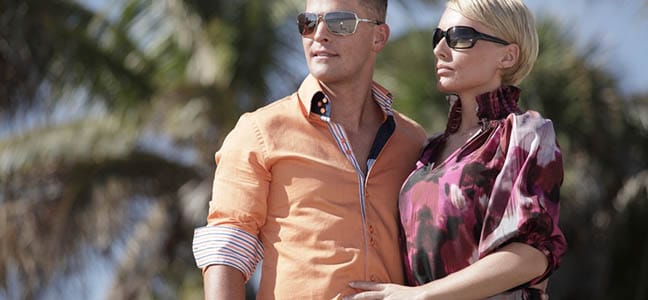 Aviator sunglasses are a type of sunglasses that were originally made by famous brands called Bausch & Lomb and also Ray-Ban. They are a particular shaped reflective sunglasses made of very thin metal body and the design is made in such a way that it serves the purpose of covering the entire eye by protecting the eye from harsh sun rays.
Aviators were originally developed by Ray-Ban in 1936 for protecting the eyes of pilots while flying. Later they became fashionable in the 60's when the celebrities started using them in films. These classy sunglasses are timeless because of their shape and everyone just loves wearing them.
Sunglasses are mainly used to make a style statement for men as well as women. Other than making you look good they help to protect the eyes from sun's Ultra Violet rays. Nowadays with every changing season there are many manufacturers who make aviator sunglasses and practically every designer has one or two versions of latest style aviators. While keeping the difference between men and women aviators in mind more and more brands have new avenues opened up that will compliment the face and the personality of a person. There was no basic difference between men's and women's aviator sunglasses when they originated but now there are some really noticeable differences between men and women aviators. They are as follow:
• The main basic and prominent difference is that aviators made for women are with embellishments to enhance their sex appeal. There are brands that make aviator sunglasses with stones, jewels and crystals encrusted on them that are very popular with women.
• As women are more fashion conscious they prefer different shapes, colors and other embellishments added for aviator sunglasses which makes a style statement for working women, on runways, for shopping sprees and parties which enables them to match and contrast the aviators with their outfits.
• The frames of aviator sunglasses for men and women are also different as women prefer delicate looking frames and men go for thicker and masculine looking frames. The tougher looking sunglasses designed for men enhance their personality and macho image.
• The size of aviator sunglasses between men and women also differs as women prefer fashionable oversized frames than men's sunglasses to protect their entire eye from sun rays. Men's aviator sunglasses have longer bridge sizes and also longer arms sizes because they have longer bone structure. Men tend to go for square or rectangle type sunglasses whereas women go for rounder shaped ones.
• Color is another difference as men go for conventional and darker colors like brown, black, grey and steel shades. Women have more flexibility when it comes to colors as they love bright red, checkered pattern or black, brown and many more colors to suit their trendy clothes.
• As it is always the case that women have more choice to choose from a number of varieties available there are aviator sunglasses that are light weight made of plastic with polycarbonate lenses which are available and becoming popular in various colors.