Wedding Small Details Checklist You Didn't Know You Needed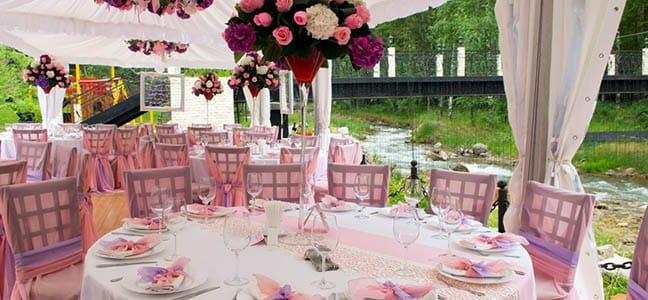 Wedding day is one of the biggest days in your life and although you are caught up with all the canopies rentals, you can miss the minor details that can become a problem in the future. Here is a checklist of those minute mistakes at a wedding.
Weather Conditions
It would be a disaster if your wedding day turns up on bad weather. It is very important to check the weather forecast before booking a venue. Rainy, windy or dusty weather can ruin the mood for your wedding and all the cost that you have spent on wedding party rentals will go to waste. It is quite common that couples don't check the weather conditions and face the absolute worse because of their ignorance. Even if there is bad weather, there must be some plans to prevent them that can be put into motion.
Installing the Right Lights
The lights must be properly set when your wedding day comes around. At nighttime, it is important that the venue is well-lit so that everyone can enjoy. Another thing that people neglect is the way the lights are set up. Apart from basic lighting, a romantic set up with strings of lights in an outdoor venue is a very cool way of having a good wedding atmosphere.
Making Sure There Is Greenery
Greenery is one of the most important things in a wedding. There should be an appropriate amount of them so that your guests get natural vibes from your wedding. Small details like putting a vase or small pieces on every table with the menu can be very memorable for your guests. This is a great way to making your wedding luxurious without too much cost.
Making Sure All the Items Are Printed
In the rush of the wedding day, some things can be missed like missing some printed stuff. At a wedding, there is a lot of things that need to be printed from invitation cards to thank you notes and everything in between like cake bags, menus, etc. It is definitely very hurtful if either of these things is left out at the actual wedding day so make sure you have all the cards and bags printed out and in the right amount.
Planning Out the Seating Arrangements
First of all, you need to find a venue that would accommodate all your guests without having them congested. After that, the seating arrangements should be planned right so that everyone could enjoy the reception and the whole event. Asking your wedding rentals provider for a customized chair and table arrangement can minimize most of the problems of your guests. Make sure that they are set in such a way where there is an open space as well as they are communication friendly.
Ceremony and Reception
Nothing must go wrong at the ceremony or the reception. There is just no room for error. Make sure that all of the requirements are met beforehand. The right cloth on the tables, candles on each of them, decoration pieces, VIP seating arrangements, favors even the music should be decided beforehand. Everything must be planned out along with other extracurricular so that there are no questions raised during your reception.
Careful Catering
Wedding food is absolutely essential and the heart of a wedding. If the food is good, the guests are sure to enjoy and remember your wedding. Make sure that there is enough food for everyone and that it doesn't come up short. It is just very embarrassing and one of the few things that you may actually miss out while planning.
Amongst all the planning and wedding party rentals Rockland NY, you must not forget about the above mentioned minor details.